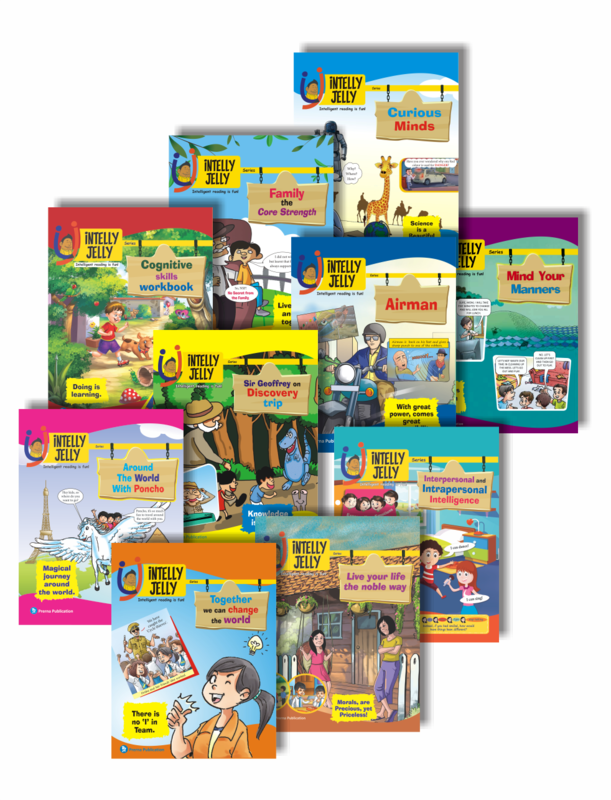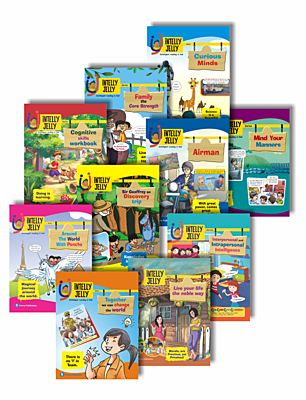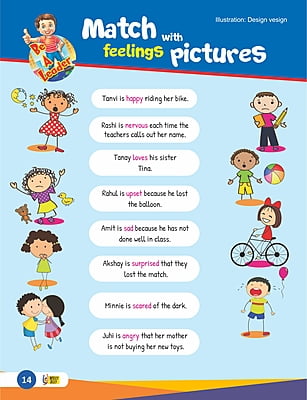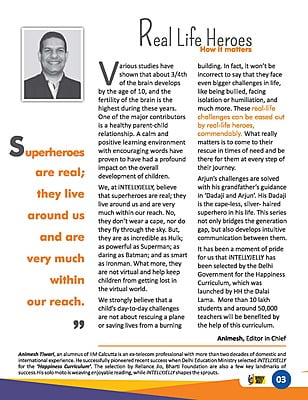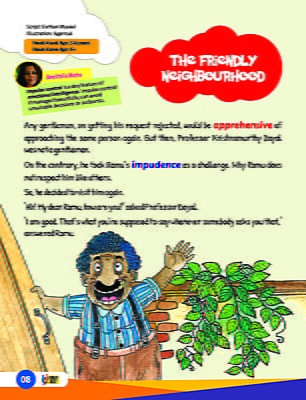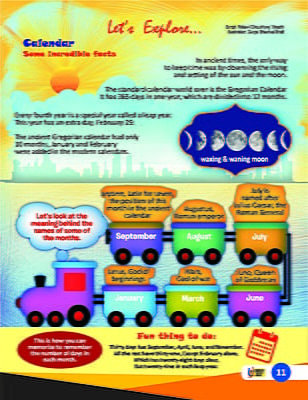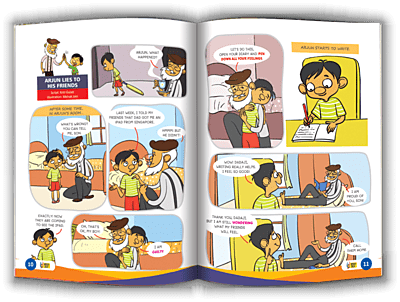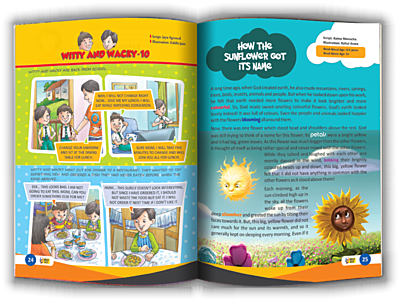 Set of 10 English Books
Editor-in-chief: Animesh, IIM Calcutta
No of pages:
28 each book
Suggested
Age

:
4-12 years
iNTELLYJELLY has an array of books for children with famous iNTELLYJELLY characters. iNTELLYJELLY English Books focus on logical thinking, family values, emotional intelligence, teamwork, social skills, cognitive skills, science and exploration, and much more.
Family The Core Strength Author : Anju, Sana Rizwan
We, at iNTELLYJELLY, believe that superheroes are real; they live around us and are very much within our reach. In this book, Arjun's challenges solve with his grandfather's guidance. His Dadaji is the cape-less, silver-haired superhero in his life.
Cognitive Skills Workbook Author : jaya Agarwal
It is essential to pay attention to details to avoid mistakes, maintain coherence and take decisions. This book contains educational yet fun activities like puzzles, maze exercises, word search, hidden objects, and much more. That helps children to develop cognitive skills and promote their imagination and creativity, and concentration.
The Adventures of Airman Author : Anand Rawat
iNTELLYJELLY's very own superhero, Professor Kabir, better known as the Airman, uses his powers to help and aid humanity. He helps those in need and doesn't think twice about going all against the wrong-doers. He encourages his young friends and readers to evaluate themselves, identify their respective 'super powers' and channelize those to help make the world a better place to live in. iNTELLYJELLY lives by and believes in the same mantra.
Curious Minds Author : Chinmaya, Farhan, Dipali
Science has proved that a healthy, happy child's mind is filled with many Why-s, What-s and How-s. This book contains many interesting, incredible, amazing scientific facts. Science complements the natural curiosity of children and helps answer their questions, well, most of the time. The more answers a kid gets, the more their curiosity is whet.
Sir Geoffrey on Discovery Trip Author : Dipali Chaddha
Through this book imagine the power of virtually taking off into an unlimited space and exploring how the world works; discovering the secrets of the plant kingdom; learning how chocolates are made, or even undertaking a journey into space. All this and more is there in this exciting book to enjoy with Col. Jeff.
Interpersonal and Interpersonal Intelligence Author : Pallavi Choudhary Tripathi
The skill to distinguish different emotions is the beauty of Emotional Intelligence or EI. Studies show that a kid with high EI is likely to communicate confidently and effectively, resolve conflicts, acquire leadership skills, manage stress and lead a more successful and happier life than others. This book has interesting activities and well-illustrated stories on these aspects, very subtly, while young readers enjoy the joyride of reading.
Live Your Life the Noble Way Author : Chinmaya,Farhan,Pallavi
This book brings modern fairy tales that depict princesses with courage, intelligence and powers, not merely as beautiful damsels in distress. The same goes for the boys too, who need to be told stories crafted on values, suaveness, and not just bravery and heroism. It is our responsibility to set this truth in the subconscious minds of children. This will help in building a better environment.
Around the World with Poncho Author : Priya Kumar Laxmi Mittar
iNTELLYJELLY aims to make young readers acquainted, subtly, with the different cultures worldwide and help them adapt global values at an early age. This book takes children not only to travel around the world atop Poncho's soft, cosy, yet sturdy back, but they live in that moment and enjoy their surroundings.
Together We Can Author : Pooja ,Pradeep, Ishmeet
The upcoming generations are the ones that, probably, have the deepest thirst for identity & desire to be appreciated. Unfortunately, this often results in a tendency to ignore the existence of others' uniqueness. This book has vibrant comics and stories on this aspect to pointers on building a team and acknowledging others.
Mind Your Manners Author : Anju Gupta,Jaya Agrawal
This Book Has Many Activities, Stories & Comics To Make Kids Understand The Difference Between Right And Wrong. Manners Maketh Man. A Straightforward Way To Inculcate Manners Among Kids Is IMAGE-ENCAPSULATION. This Is The Magical Process; It Does Wonder If It Followed Consistently.